Within months of the 1994 launch of DirecTV's national satellite TV service in the U.S. the broadcast system was hacked. The company's first-generation smart card-based security could subsequently be modified or replaced by individuals desiring to erase records of pay-per-view purchases or enable the unlawful interception of channels they hadn't paid for.
For most of the next decade, DirecTV fought piracy by periodically upgrading its security over the air and with smart card replacements, as well as by shutting down and suing the proprietors of websites that sold piracy-related electronics and software. But security is a cat and mouse game; each successful move by DirecTV prompted a counterattack by the hacking community. Additionally, because there remained a large demand for equipment to intercept DirecTV's programming without paying for the service, several new websites were launched for each that was shutdown.
In 2002, DirecTV expanded its anti-piracy efforts designed to curb demand for piracy equipment. The company started to use customer records obtained from various operations it had successfully shut down, along with other evidence, to pursue thousands of end user pirates in U.S. District Court. In total, more than 25,000 individual defendants were named.
Embedded Software Experts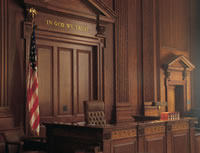 In support of DirecTV's anti-piracy efforts, Barr Group was retained to provide expert analysis of numerous embedded systems suspected of being designed for use in DirecTV piracy. A team of Barr Group engineers thus engaged in a substantial, multi-year reverse engineering and testing effort that generated more than 130 detailed expert reports. Each expert report concerned a specific piece of electronics or related software. After a careful and conservative assessment of each set of available facts, Barr Group experts concluded that most, but not all, of the specific products were primarily designed for use in satellite TV piracy or solely useful for that purpose.
Day in Court
Barr Group's expert reports were submitted in thousands of end user piracy lawsuits in U.S. District Court. Additionally, Barr Group experts provided testimony in hundreds of affidavits and in depositions and several dozen courtroom appearances. Barr Group's carefully researched, independent-minded expert reports and opinions were never successfully challenged by opposing experts or attorneys.
Thanks to the success of the anti-piracy litigation and a coordinated security upgrade, DirecTV's signals became completely secure in 2005 and have remained secure for several years.
Learn more about Barr Group's expert witness services.