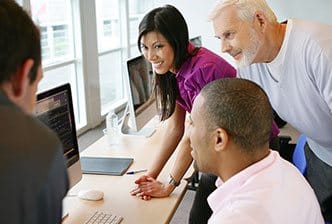 Better trained teams finish product development faster and with fewer bugs. Barr Group's on-site training courses are a convenient and cost-effective way to train teams of five or more engineers in industry best practices, tools, and techniques.
Review the Course Catalog  

Barr Group's expert instructor will travel to your facility to deliver the selected course(s). Our courses range from 1-4 days in length and include information-rich lectures as well as hands-on exercises using real embedded hardware and tools.
Contact us today to discuss how to bring a Barr Group training course to your team. Delivered this way you can combine courses as you wish and let us know if you prefer any customizations. Previous on-site training customers have had from 5 to 500 engineers attend our courses, so we have seen it all.