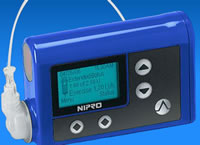 Nipro was established to develop, manufacture, and sell a line of lightweight, body-worn insulin pumps. When Nipro set out to design the embedded software inside the first-generation "Amigo A" product, engineering management knew the company would need the talents and hard work of engineers inside and outside the company. After experienced engineers had drafted the software architecture on paper, Nipro's engineering director turned to Barr Group for an outside design review.
Unbiased Engineering Guidance
A senior firmware engineer from Barr Group consulted with Nipro's experienced staff engineers and contract electronics designers. After reviewing the planned design for the insulin pump firmware, the Barr Group consultant proposed a simpler, radically different approach to the high-level software architecture based on state machines.
Nipro's engineering director immediately recognized the value of changing the design to a state machine as proposed by Barr Group. Barr Group's consultant also identified a specific third-party state machine framework that could be used to simplify the software design for FDA approval and ease of implementation and testing.
Value Delivered
Design reviews and engineering guidance from Barr Group are always independent and unbiased. Barr Group consultants help clients choose the best software architecture for their needs, from a range that includes real-time operating systems, state machine frameworks, and other open source and commercial alternatives.
In the words of Nipro's engineering manager, "The successful design of complex medical devices containing embedded software requires managing complexity with a robust methodology. Barr Group provided expert advice in choosing a design. The guidance from Barr Group allowed us to maximize our productivity and compress the schedule, while maintaining the highest quality standards--a tremendous value!"
Can Barr Group assist your team with product development services?  Contact us now.