Course Overview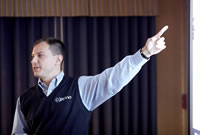 Embedded software expert Michael Barr presents new techniques for keeping bugs out with coding standards.
There are many sources of bugs in software programs. Some bugs are created by the original programmer. Other bugs result from misunderstandings of the original code by those who maintain, extend, and/or reuse (or port) that code at a later time. The number of bugs introduced by the original programmer can be reduced through the disciplined application of certain coding practices. In addition, some types of bugs caused by maintenance programmers can be prevented by the original programmer through commenting and careful and consistent naming of variables and functions.
Coding standards, which consider these issues from the start, are valuable tools to keep bugs out of medical devices and other safety-critical embedded systems. This course demonstrates how coding standards can be used to effectively keep software bugs out of C and C++ programs. The price of the course includes a license to use and modify a Microsoft Word copy of Barr Group's Embedded C Coding Standard and attendees are shown how to easily tailor that to the needs of their organization.
Topics covered during this course include:
Introduction to Coding Standards
General Rules
Comments
White Space
Modules
Data Types
Procedures
Variables
Expressions and Statements
This course is appropriate for:
Embedded software developers
Technical leaders and managers
Prerequisites:  Attendees should be familiar with the C programming language.
Explore this course: